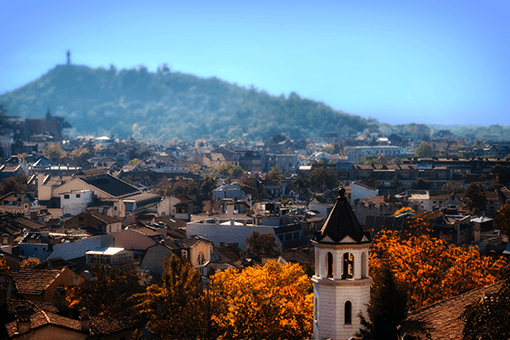 Sofia Airport to Plovdiv Taxi – 24/7 transfers
Our company offers private transportation by taxi Sofia Airport Transfer to Plovdiv – the second largest city in Bulgaria. The transportation services are dedicated to you and your desired itinerary with a comfortable vehicle and a professional driver serving your needs and particular preferences.
You can be sure you will be in the company of professional and high-level experienced drivers. The trip from Sofia Airport to Plovdiv with our private taxi transfer service will be an amazing and calm experience itself! Of course, if you need transportation back – from Plovdiv to Sofia Airport or Sofia city center, you have to say the date and hour and our private taxi will be waiting for you.
Regular taxi services are usually available at the airport on availability basis outside the terminal. Our service is a private one with a driver that will wait for your after the security check and border control with your name on a printed card held high. The driver will help you with the luggage and accommodate you in the car at your best comfort.
Our Drivers speak English and Russian!
We do not require deposits.
We will wait for you even if the flight is delayed!
 If you travel with children please mention this upon booking, so we can assure car seats.
We guarantee a cozy and comfort transfer.
Sofia to Plovdiv taxi transfer includes transfer to any hotel or another point of destination in the city, just mention this in the comments when making your reservation. Give us a call to discuss your trip at +359 888 575 222 (text us a message at WhatsApp or Viber +359 888 575 222). 
You can also book your Sofia Airport Transfer to Plovdiv on your way back by filling the form below! 888 575 22
| | | | | | | | |
| --- | --- | --- | --- | --- | --- | --- | --- |
| From | To | Distance | Duration | standard 4+1 | luxury 4+1 | minivan 6+1 | minibus 8+1 |
| Sofia Airport | Plovdiv | 145 km | 1h 51min | 60 € | 65 € | 60 € | 90 € |
"These services are GREAT! I was way too stressed about everything around my business trip, but this transfer gave an amazing start to my stay in Plovdiv. Booking for my trip back now!"
"We travel a lot and always wonder if everything will go well in a foreign country with a transfer. Will we find the driver, will he be on time, and etc. But everything with this company went without a problem. Wish every transfer can be like this! Thank you!" 
How does airport private taxi transfer work?
1. Submit
Send a request for a private transfer
2. Quote
We will get in touch with you
3. Booked
We will confirm your transfer request
Send a request for a private taxi transfer by filling this form
Call us we speak English and Russian (Viber or WhatsApp available as well):
Plovdiv is the second largest city in Bulgaria and considered to be one of the oldest cities in Europe. It is a fascinating and preferred destination to visit as it is located among and on six hills called "tepeta." It has a beautiful historical old town part that is free of cars and it amazing to walk through with many antique shops, magnificent ancient ruins, buildings, and charm of the history that floats around.
Going from Sofia to Plovdiv could be one of the best trips to take. It combines the modern and beautiful with the old and impressive part of history. Just walking around gets you the chills of the extraordinary.
Plovdiv deservedly was selected to be the Bulgarian host of the European Capital of Culture (ECOC). You can see for events on the official Plovdiv 2019 European Capital of Culture here. You will find that twenty years after the city was a host of the Month of Culture in 1999, it's now the first city in Bulgaria chosen to be the European Capital of Culture. It's a great honor and also an excellent opportunity for development, progress, and improvement. In Plovdiv artists from all around the world are performing and enriching the cultural holding. Dancers, musicians, actors, street performers, and all kinds of artisans are winning the hearts of fanciers.
The events (theater, music and dance festivals, exhibitions, readings, etc.) taking place in the European Capital of Culture are fascinating and expressing the historical treasure of Bulgaria and the world, awakening the urge of knowledge, and fulfilling the point and message of the whole spirit. People from all around the world are coming to experience the energy of the European Culture, are you?