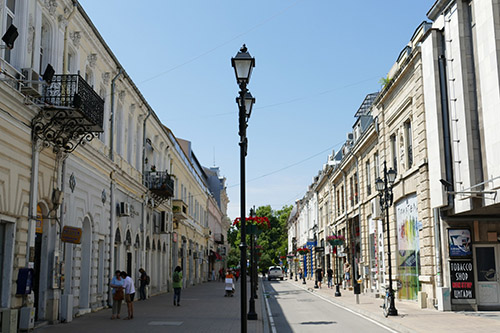 Sofia Airport Private Taxi to Ruse - Gyurgevo
We offer private taxi transfer from Sofia Airport to Ruse – Gyurgevo. If you are interested in visiting the coast of Danube river and experiencing the best of the north part of Bulgaria, a private taxi will take you from Sofia Airport to Ruse. It is accompanied by a professional service in the face of experienced drivers and comfortable cars.
Regular taxi services are available at the airport on availability basis outside the terminal. Our service is a private one with a driver that will wait for your after the security check and border control with your name on a printed card. The driver will help you with the luggage and accommodate you in the car preparing you for the safe and calm trip you are about to experience.
Ruse is one of the biggest cities in Bulgaria and often desirable destination. Not only because of the Danube river that adds a romantic feeling to the whole experience but because of every historical and beautiful building that transfers the spirit of past and present combined. Taking a private taxi from Sofia Airport to Ruse is available at your preferred time and location. 
Our Drivers speak English and Russian. 
We do not require deposits. 
We will wait for you even if the flight is delayed. 
If you travel with children please mention this upon booking, so we can assure car seats. 
We guarantee a cozy and comfort transfer.
Sofia Airport to Ruse – Gyurgevo
Our private taxi provides transfer service from Sofia Airport to Ruse – Gyurgevo. You can choose your pick up point and your end one. The private taxi will take you to your hotel, a restaurant, sightseeing place or wherever you want. Book your taxi by filling the form below or give us a call at +359 888 575 222. You may text us a message at WhatsApp or Viber (+359 888 575 222). 888 575 22
| | | | | | | | |
| --- | --- | --- | --- | --- | --- | --- | --- |
| From | To | Distance | Duration | standard 4+1 | luxury 4+1 | minivan 6+1 | minibus 8+1 |
| Sofia Airport | Ruse – Gyurgevo | 300 km | 4h 30min | 120 € | 130 € | 125 € | 170 € |
"My family always prefers private transfers. It's convenient and comfortable. We use them all the time"
"The car was nicer than I imagined it would be. The driver was great, too!"
"The private taxis are always better. I was happy with your services!"
How does airport private taxi transfer work?
1. Submit
Send a request for a private transfer
2. Quote
We will get in touch with you
3. Booked
We will confirm your transfer request
Send a request for a private taxi transfer by filling this form
The city of Ruse is one of the oldest and biggest in Bulgaria. It's located in the north part of it, being at the coast of Danube river. You can almost see Romania on the other side of it. It's a city with a lot of history that you can find around yourself just walking and looking at the buildings and their magnificent rooftops.
Furthermore, the museums, galleries, and impressive monuments will take you on a time-travel journey. Ruse holds hidden fascinating places that if you are lucky enough you can find and enrich your knowledge. There are fortresses on hills, landmarks, ancient ruins, rock monastery, and a lot more.
The Danube Bridge is an essential connection between Ruse and Romania, providing automobile and railway transport. There are a lot of cruises organized for travel lovers. 
It's a promised great experience that our private taxi will help better it. Take yours from Sofia Airport to Ruse and live the best vacation!