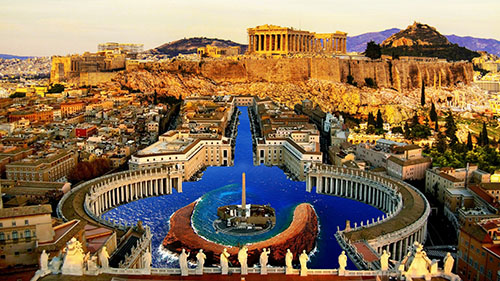 Private Taxi from Sofia Airport to Athens – 24/7
We offer private taxi transfers from Sofia Airport to Athens. Considering the distance, we are flexible to be complaint with preferences about pickup and drop off locations, as well as hours of departure. Our private taxi services are dedicated to providing cozy vehicles and a professional driver.
Athens is a desired destination in Greece that a lot of tourists prefer during all times of the year. If you don't want to be obligated to hours and locations that come with airport, bus, or railway transportation, then the private taxi service will be the best for you.
The driver will be waiting for you when you arrive at Sofia Airport, after security check and border control. He will be holding a card with your name and nicely accommodate you in the car. For all kinds of groups and any amount of luggage, we provide different and suitable vehicles to work at your best.
Our Drivers speak English and Russian.
We do not require deposits.
We will wait for you even if the flight is delayed.
 If you travel with children please mention this upon booking, so we can assure car seats.
We guarantee a cozy and comfort transfer.
Our private taxi transfer service from Sofia Airport to the City Center of Athens includes transfer to any hotel or another point of destination in the city of Athens. Book your taxi by filling the form below or give us a call at +359 888 575 222. You may text us a message at WhatsApp or Viber (+359 888 575 222). 888 575 22
| | | | | | | | |
| --- | --- | --- | --- | --- | --- | --- | --- |
| From | To | Distance | Duration | standard 4+1 | luxury 4+1 | minivan 6+1 | minibus 8+1 |
| Sofia Airport | Athens | 800 km | 10h | 330 € | 350 € | 340 € | 400 € |
"The trip was long, but the car was very comfortable!"
"We had a lovely time with our driver! He spoke well English. We booked a van because we were six people. Definitely worth its price!"
"My children were well accommodated. Thank you for your kind service!"
How does airport private taxi transfer work?
1. Submit
Send a request for a private transfer
2. Quote
We will get in touch with you
3. Booked
We will confirm your transfer request
Send a request for a private taxi transfer by filling this form
Athens is the historical capital of Europe, and it gathers thousands of tourists each year. Going around the city opens at each step magnificent view and a story with it. A story of times long before the world as we know it. Athens collects remains from events in the past that everyone should see and get a slight experience of what it was or how it looked. Monuments, museums, ruins, churches, and treasures that enrich everyone's knowledge and sense of the world. 
The capital of Greece is impressive in the winter, especially around Christmas, and also fascinating in the summer. Although the hot weather, the atmosphere in the heart of Greece is perfect for vacations – with family, friends, or a loved one.
A private taxi from Sofia Airport to Athens is perfect due to the distance and not always convenient hours of departure of international transportation. The luxury of traveling at compliance with your individual preferences is a deserved feeling that is now available at appropriate prices and conditions. Athens is waiting for you to explore and remember forever!