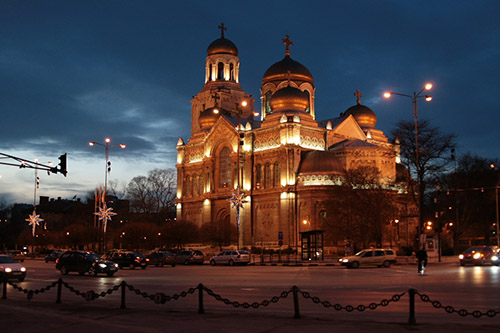 Private Taxi from Sofia Airport to Varna – 24/7
Private taxi transportation is available for you from Sofia Airport to Varna. You can choose your pickup and drop off locations whether you are going to Varna Airport, a hotel, or another point. The same is valid for your departure from Sofia.
Our private taxi services are committed to providing the best possible conditions for your transfer to the black sea. You can trust you will have a cozy vehicle compliant with how many people you are traveling, and if you have children. Also, a professional driver will be waiting for you holding a sign with your name, accommodate you in the car, and take care of any requests you may have. 
Varna is also called the sea capital of Bulgaria as it is the third largest city in the country and its marines are exporting and importing values for and from Bulgaria. There is also an airport there, and you can be picked up from there to Sofia, too. You are always welcomed to pick your destinations and hours of departure.    
Our Drivers speak English and Russian.
We do not require deposits.
We will wait for you even if the flight is delayed.
If you travel with children please mention this upon booking, so we can assure car seats.
We guarantee a cozy and comfort transfer.
Sofia to Varna (Airports or Other)
Our private taxi transfer service from Sofia Airport to Varna includes transfer to any hotel or another point of destination in the city of Varna. Book your taxi by filling the form below or give us a call at +359 888 575 222. You may text us a message at WhatsApp or Viber (+359 888 575 222). 888 575 22
| | | | | | | | |
| --- | --- | --- | --- | --- | --- | --- | --- |
| From | To | Distance | Duration | standard 4+1 | luxury 4+1 | minivan 6+1 | minibus 8+1 |
| Sofia Airport | Varna | 523 km | 4h 42min | 160 € | 170 € | 165 € | 220 € |
"I had a flight to Varna and took a private transfer to Sofia. Very impressed by the services!"
"Me and my colleagues had a last-minute meeting, and this transfer saves us! Amazing!"
"This transfer we took was worth every dollar. If we come to Bulgaria again, we will book it."
How does airport private taxi transfer work?
1. Submit
Send a request for a private transfer
2. Quote
We will get in touch with you
3. Booked
We will confirm your transfer request
Send a request for a private taxi transfer by filling this form
Call us we speak English and Russian (Viber or WhatsApp available as well):
Varna is the third largest city in Bulgaria and the second most prosperity one. It's located in the North-Eastern part, on the Black Sea shore. Varna is excellent for tourists and for exploring the eastern part of Bulgaria. The location on the coast makes it perfect for anyone to combine impressive places with time on the beach. The possibilities of exploring in the city are a lot, and that's why it's visited by many tourists every year.
The beaches in Varna add a nice touch to the whole sea experience. There is also a park called "Sea Garden" that impresses and attract many to walk around. Another exciting place to visit is the Dolphinarium where young and elder usually have fun times with dolphins. As well as them, Varna excites with the Cathedral, the inspiring buildings as museums, galleries, festival wholes, amphitheater and many more. 
Of course, the activities that can be done there are appropriate for all ages, all interests, and everyone can find the best place for them. The accommodation offers a vast variety – hotels and apartments are all around the city. When you book your private taxi, don't forget to request a drop-off point for your best convenience.